Leafy Greens & Cauliflower Soup
Quite possibly one of the easiest recipes that can make its way from cooking pot to the table in less than 15 minutes!
By Neil Bridgeman
Aug 16, 2022 • 2 min read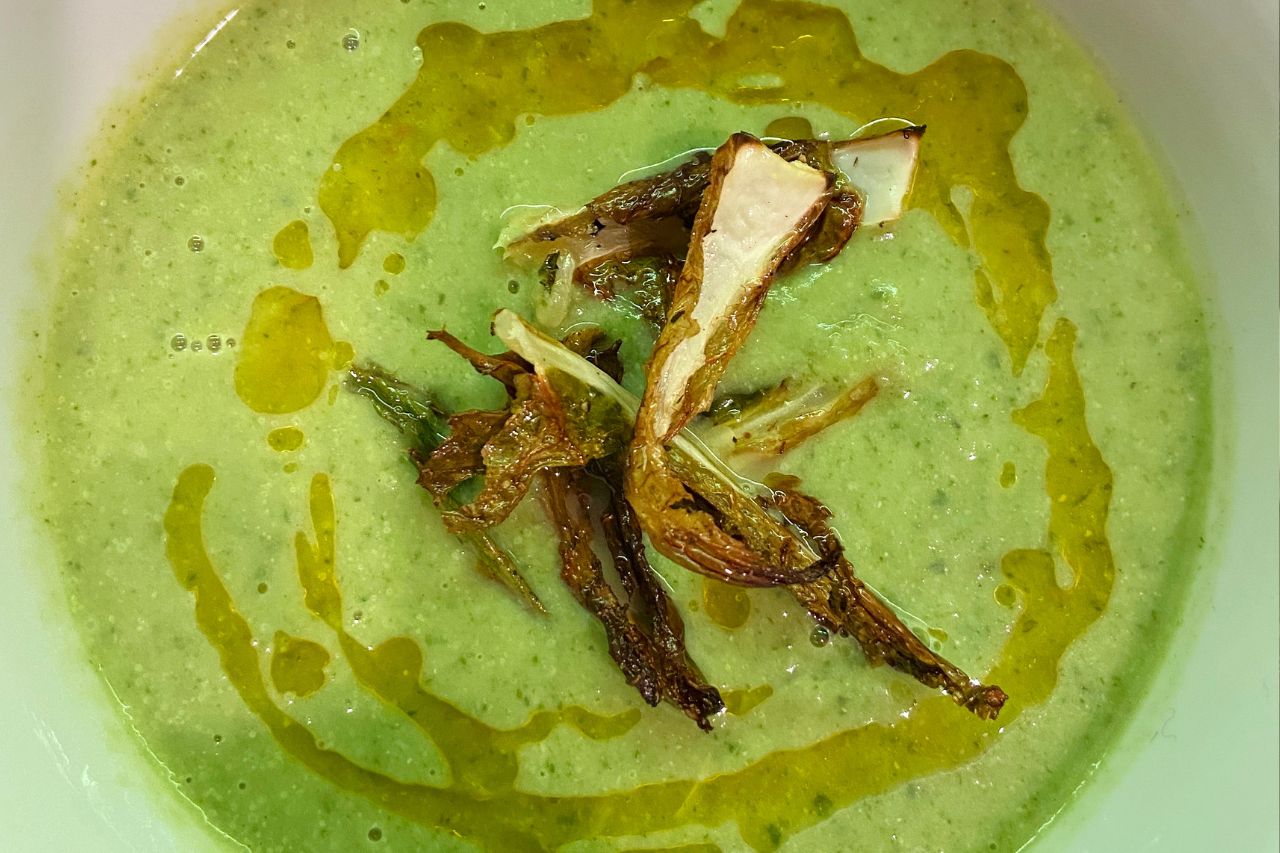 This soup packs a lot of nutritional punch and is easily prepped and served in minutes. The dark leafy greens and the ample cruciferous veg are high in plant-based protein, folate, magnesium, vitamin A as well as K not to mention a number of phytonutrients that play key roles in the liver detoxification process.
Prep time: 5 mins⁠
Cooking time: 8 – 10 mins
Serves 1 – 2
INGREDIENTS
1 cup cauliflower florets⁠

1 cup broccoli florets⁠

2 big handfuls spinach or other dark leafy greens⁠

2 clove garlic⁠

700ml veggie stock or chicken bone broth⁠

Handful of outer cauliflower leaves ⁠

1 tbsp olive oil⁠

½ tsp cumin seeds⁠

1 tbsp nutritional yeast⁠

1/2 lemon juiced⁠

Extra virgin olive oil, salt & pepper to taste⁠
METHOD
Preheat the oven to 200C⁠

Bring the bone broth or veggie stock to the boil in a steaming pan⁠

Coarsely chop up the vegetables and place in the steamer section along with the garlic⁠

Steam the veggies for 8-10 mins but not for too long. The broccoli and cauliflower should still remain firm(ish) and retain colour and shape. The spinach will wilt considerably ⁠

In parallel, coat the cauliflower leaves in olive oil, season with cumin seeds and place in the oven and roast for 10 mins or until crisp and light brown⁠

Allow the veg and broth to cool before adding the veg and the liquid to a nutribullet, blender or hand-blitzer⁠

Reheat as needed, adding the nutritional yeast and lemon juice ⁠

Season as needed with salt and pepper⁠

Garnish with the roast cauliflower leaves and an ample drizzle of extra virgin olive oil⁠