20 Minute Ramen
This one-pot-wonder ramen is a favourite of mine. It is a perfectly balanced, light and refreshing meal that can be whipped up in roughly 20 minutes.
By Neil Bridgeman
Oct 3, 2021 • 5 min read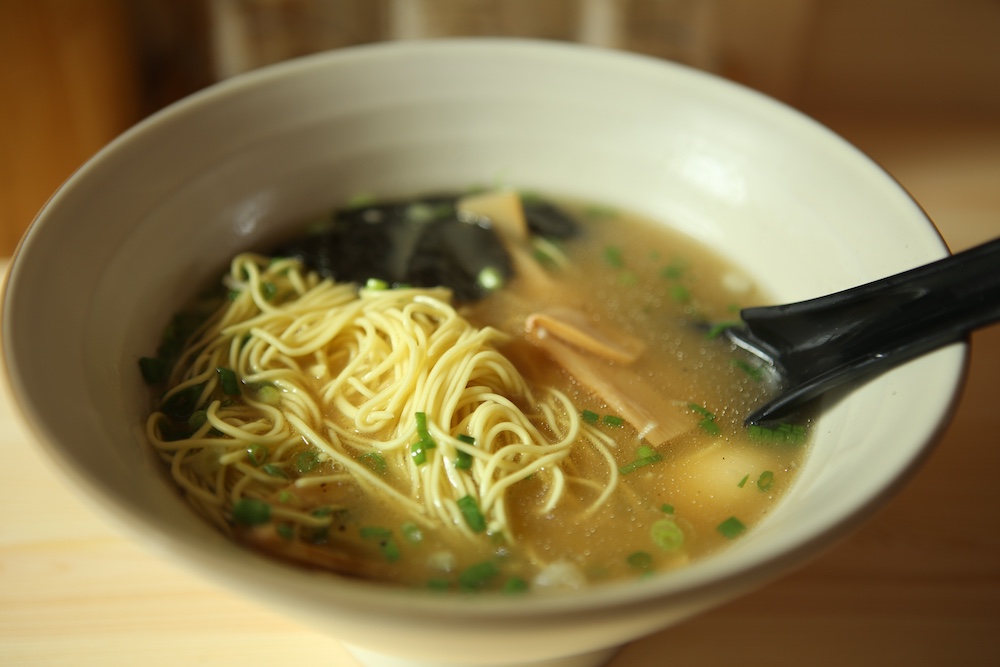 The perfect go-to recipe when you're short on time but want to pack some nutritional punch. You can really add any kind of vegetables you want to this as well as omit the chicken or salmon if that's your preference. The key for getting the balance of flavours right is the lemon juice, nutritional yeast and the miso – together they create a wildly layered, but refreshing umami flavour, that will leave you wanting a second serving every time.
INGREDIENTS
750ml of vegetable or chicken-bone broth

1 1/2 tbsp red miso paste

2 tbsp nutritional yeast

1 small green chilli chopped

2 – 3 cloves of garlic chopped

3cm of ginger sliced

1 cup shiitake or button mushroom sliced

1 cup parsley coarsely chopped

1 1/2 cups kale coarsely chopped

60g brown rice udon noodles

1 tbsp flax seed oil 

Optional one chicken breast or salmon fillet sliced thinly

2 tbsp of kimchi for garnish

Juice of half a lemon

Salt and pepper to taste
METHOD
First, begin to heat the broth in a large saucepan over medium heat. While it is warming, roughly chop or slice the garlic, chilli, ginger and once ready, add it to the broth. Add the miso paste and increase the heat, bringing the broth to a light boil for 10 minutes and then pull the temperature back to a simmer while you prepare the other ingredients.
Next, if adding the chicken or salmon, thinly slice the chicken breasts or salmon fillet and add to the simmering broth to poach for further 10 minutes. At this point, also add the brown rice udon noodles.
Coarsely chop the kale, mushrooms and parsley and add them all to the simmering broth also.
When the noodles are done, take the pan off the heat and allow it to cool slightly for 5 minutes before adding the lemon juice and nutritional yeast. Stir through. Adjust the lemon juice and nutritional yeast to your taste and add salt and pepper to season.
Divide the ramen broth between two bowls to serve and garnish each with 1 tbsp of kimchi. Drizzle the flax oil on top of the broth before serving.